Regular price
Sale price
$78.00
Unit price
per
Sale
Sold out
Pendant Size: 3 cm wide, 3 cm tall

Length: adjustable from 24 inches to 16 inches

Weight:  11 gm
Materials: Pure Iron

Images are representative.

First generation

Hand forged by M.Barran
Made to order

This symbol has been used throughout Scandinavia since before the Viking age. Like the popular modern trolls cross, this symbol was painted on barns and doors as a ward against evil in Finnish folk magic, much the same way an evil eye was used more south. The symbol was thought to be powerful because it can be drawn without breaking contact with the surface. With this in mind, our iron Iron Käpälikkö has been made without a seam out of a continuous piece of iron, a material of power in Finnish folklore.
This symbol itself has many names. In Finland is mostly known as Hannunvaakuna, In Sweden as Sankthanskors, in Denmark Johanneskors . All these names point to it being a symbol associated with the Midsummer celebrations during St John the Babtist's day in the medieval calendar.
An earlier pagan name for it in Finland is Käpälikkö, käpälä meaning an animal paw.
In Norwegian decoration this symbol is known as the Valknute. The triquetra (three interlocking triangles) symbol we commonly call a Valknut is a much more modern naming.
This hand forged pendant has been attached onto a leather cord, tied with adjustable knots allowing you to decide how long you want the necklace to be. Available in two finishes, a traditional forge black or a very decorative antique brass brushed finish.
This necklace is the perfect choice if you like the idea of wearing a trollcross (the one that resembles an Othala rune), but want a symbol that is more authentic and with much older historical provenance, dating back about 1400 years ( See Hablingbo picture stone from Gotland, Sweden).
Share
View full details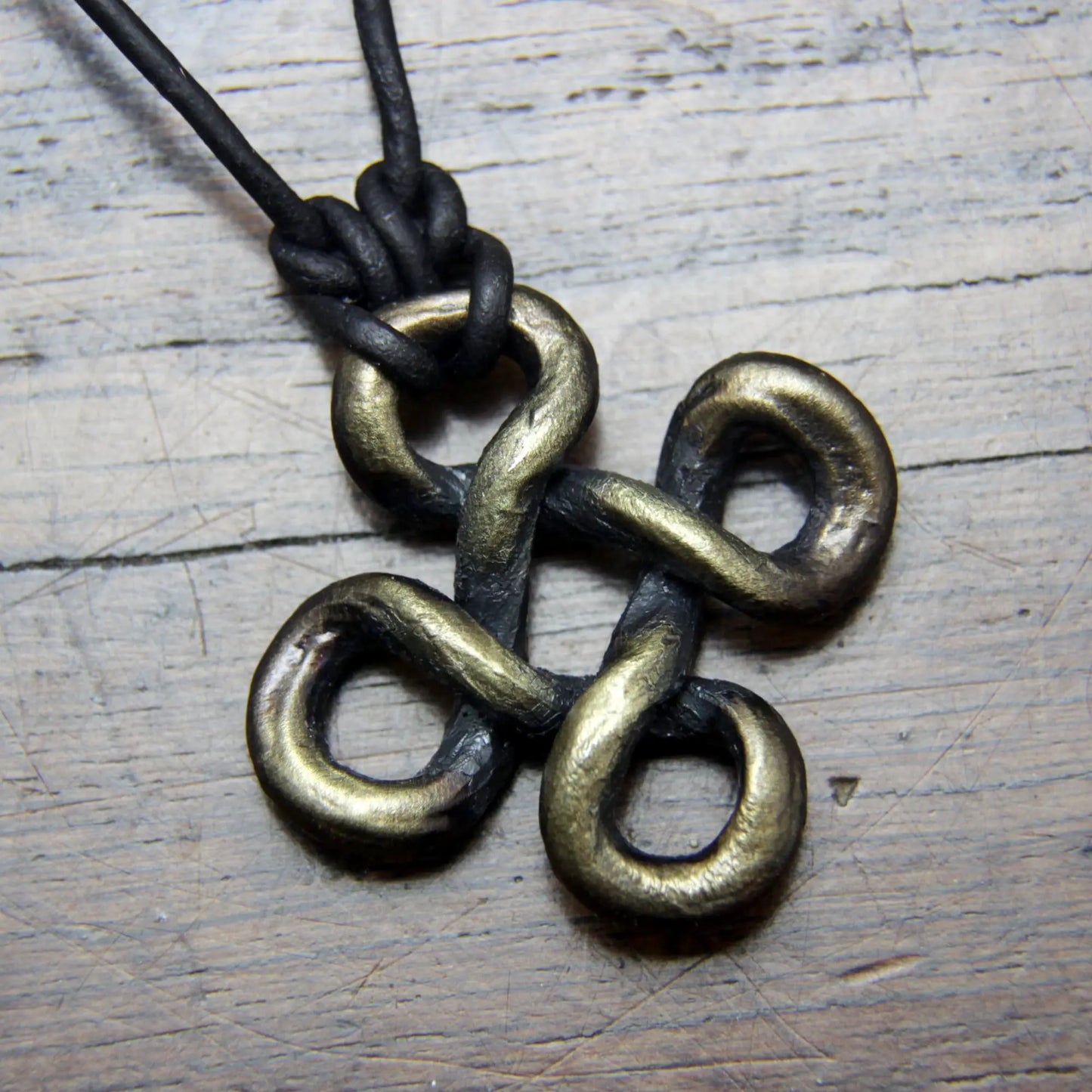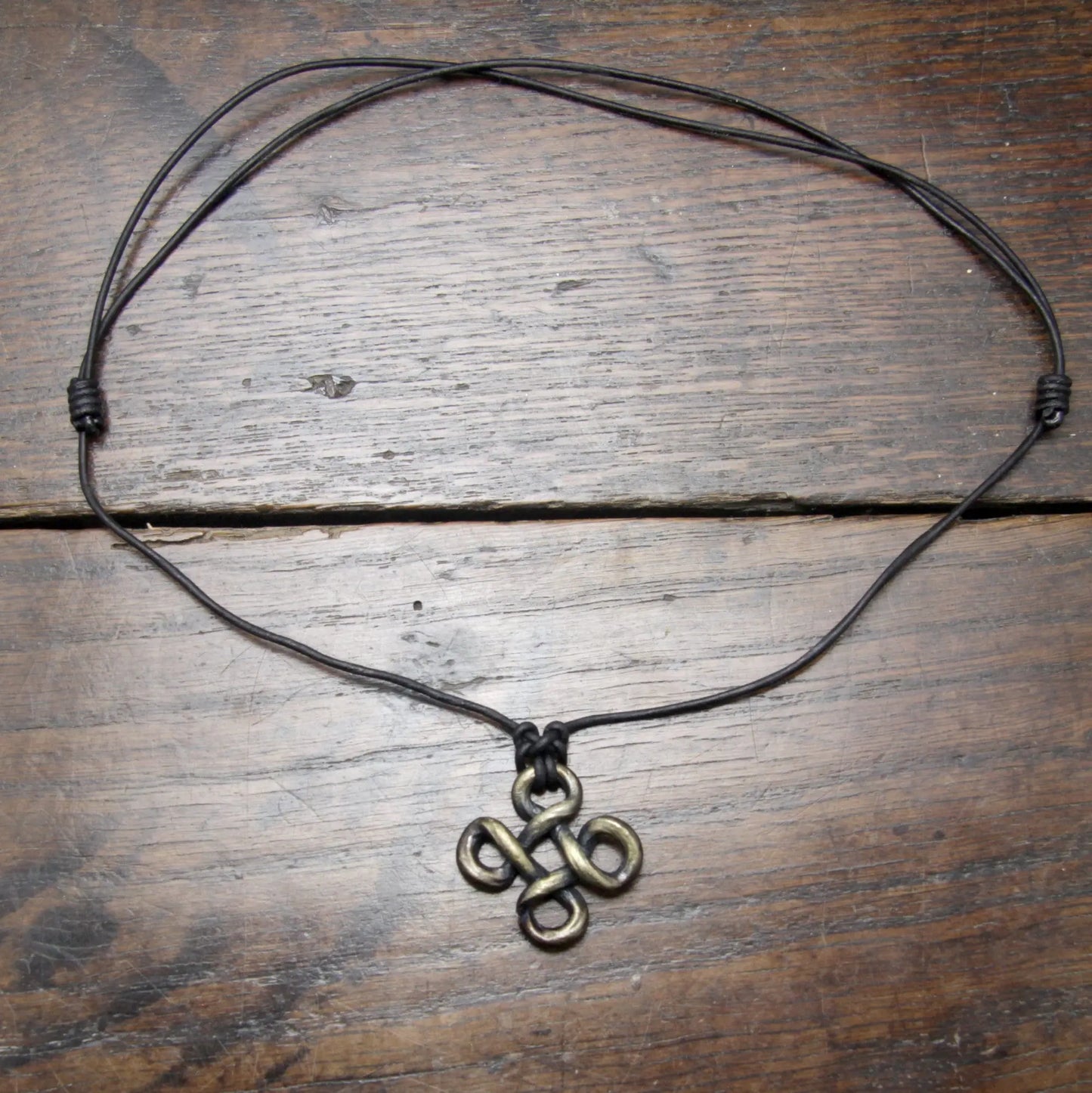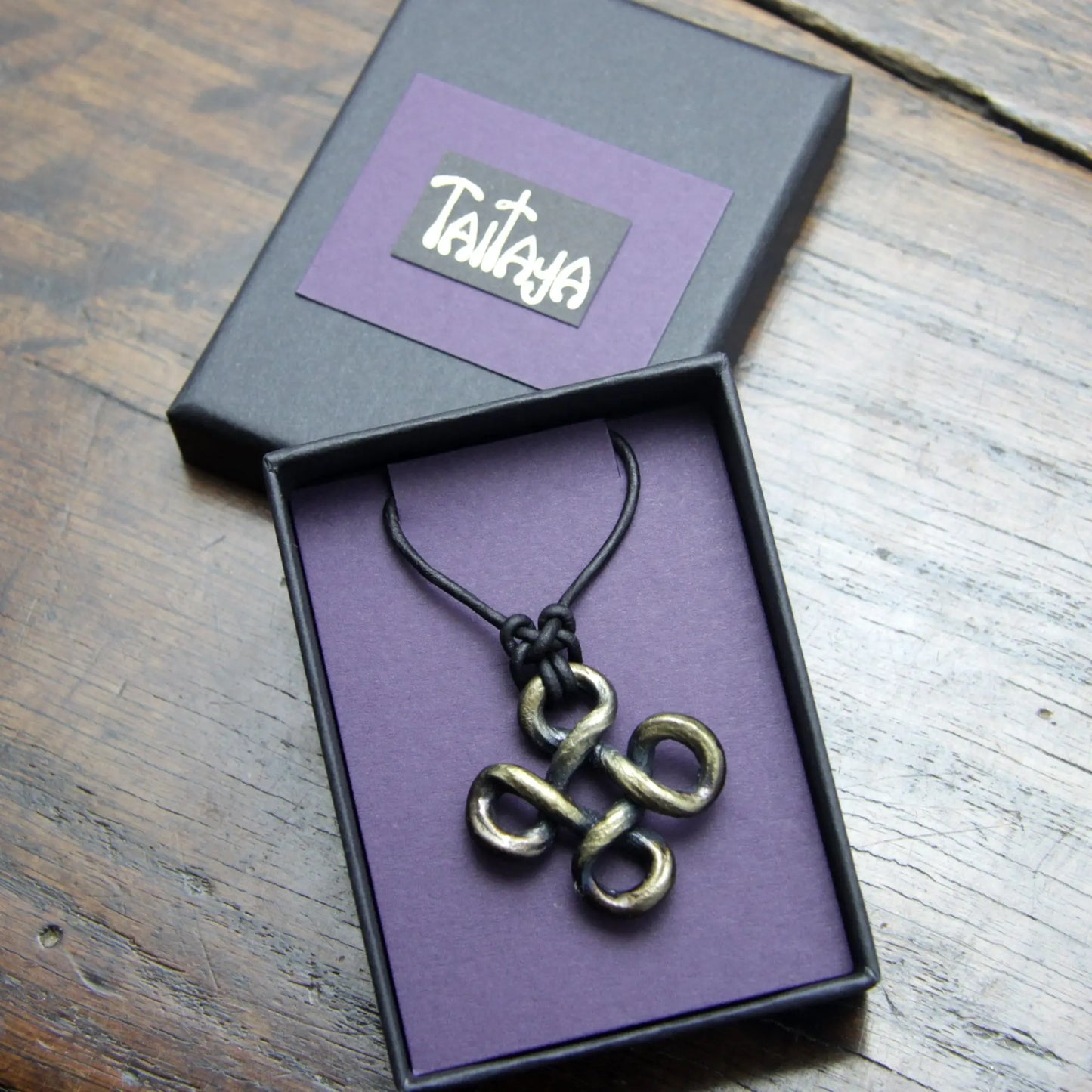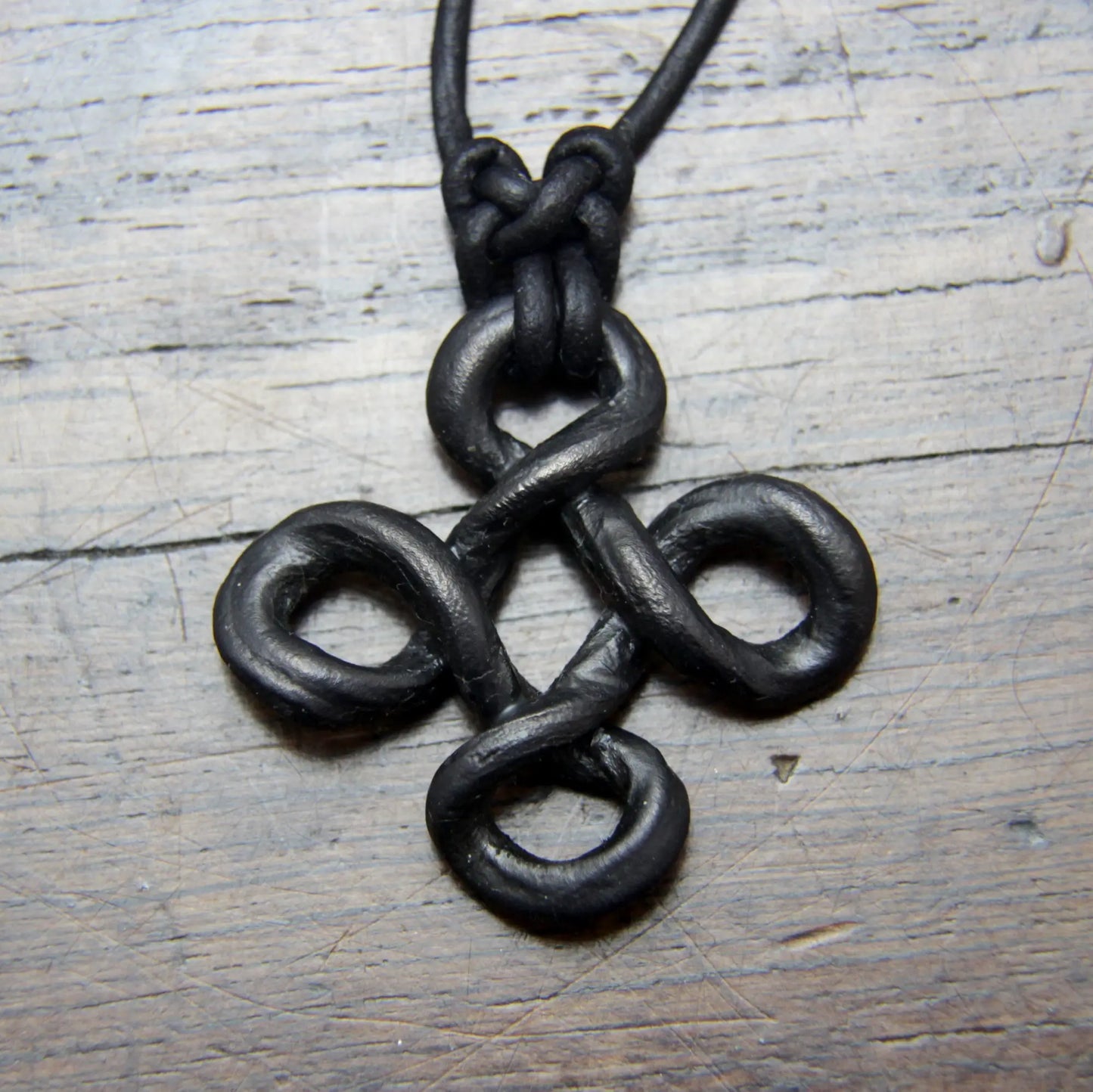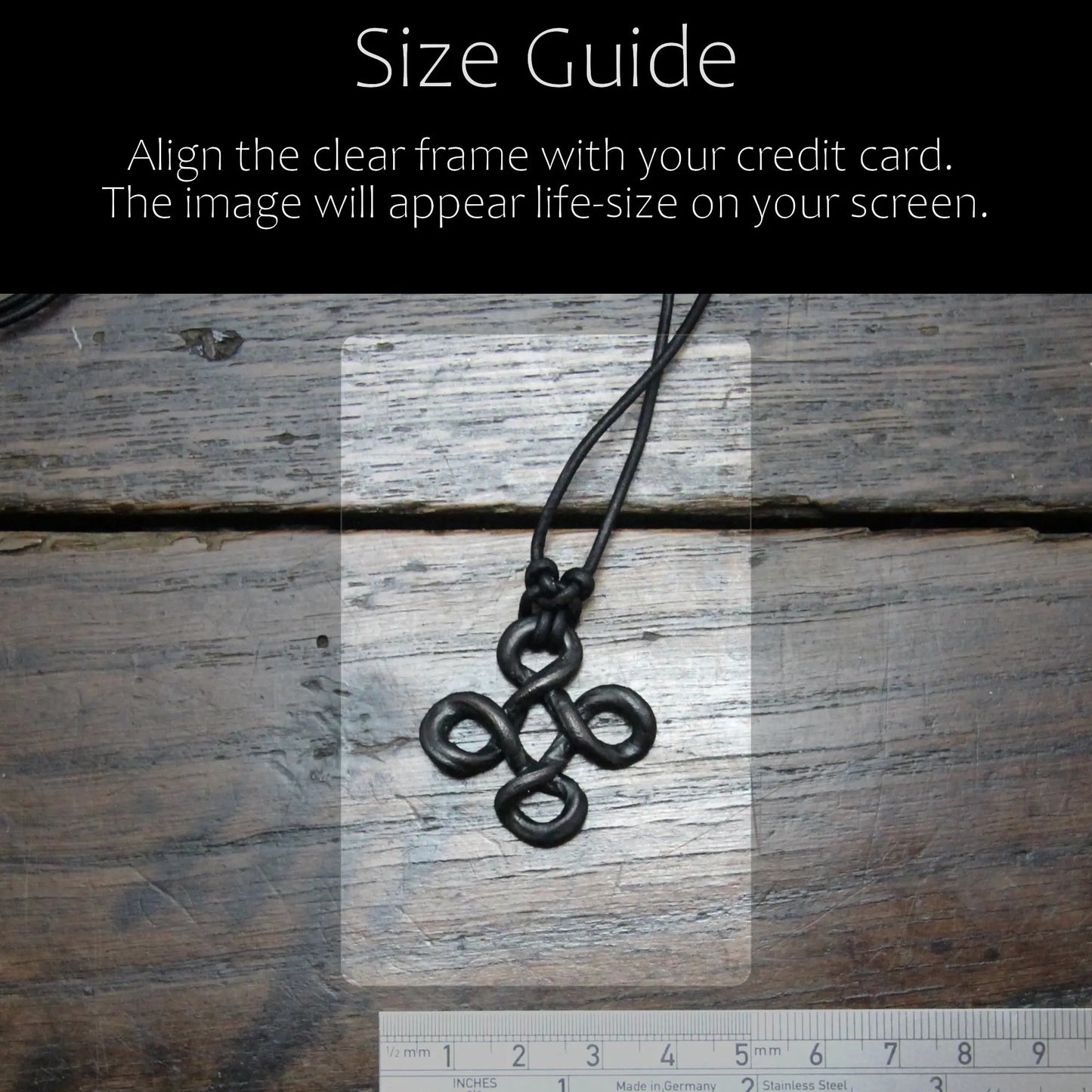 Important details about ordering
Processing times

Our work is hand made. This means that with most of what we sell, we need a little time to make it for you. Each product in our shop is marked either as "Ready to Ship" or "Made to Order"

 

Ready to ship

These are items we have ready made and short of adding the colour of cord you choose and wrapping them up for the post, require no longer than a day to send. Providing the post office is open.

 

Made to Order  -Iron

Items made out of iron or any items that require a customisations, like an engraving or silver inlay are typically completed in 2 to 3 days. If there are any unforeseen delays, then I will be in contact with an updated estimate.

 

Made to Order  - Silver

These take the longest. With silver items we have to send them to London to be assayed and officially hallmarked. How long this service takes, depends on their workload and mine, as I usually need to make a few extra silver items to bring the individual hallmarking cost down. For this we like to reserve 2 to 4 weeks.
Delivery and Shipping

Current processing times (updated 19/9/22):

- Ready to ship items is 1 to 2 business days.

- Made to order Iron work 1 to 3 business days.

- Made to order Silver work 2 to 4 weeks.

 

We are based in the United Kingdom, but we ship worldwide, with a few exceptions. We do not at the moment process import duty, VAT, GST or Sales taxes for you, so please be mindful that to some locations additional costs may apply.

Following are more country specific details.

 

International Express Delivery

I use DPD, DHL and FedEx for international express delivery. This option is available at checkout. Express delivery typically take 3 to 5 days, depending on your location.

 

United Kingdom

Our standard delivery is using Royal Mail Signed For. This can take from 1 to 3 days to arrive and will need a signature on delivery. If you would rather not sign for delivery, please choose First Class delivery, no signature needed at checkout.

Special Delivery Next day is available at checkout. This will also be signed for. If you put your order in before 9 am Monday to Friday, your parcel will arrive the following day before 1 pm.

 

United States

Our standard delivery is currently with Royal Mail. The average transit time is 5 to 12 days. Tracking is included.

Sales tax has not been included in your purchase.

 

Canada

Our standard delivery is by Royal Mail. The average transit time is 5 to 10 days. Tracking is included.

Customs duties are very likely. These depend on your province. There is also $9.95 CAD, processing fee charged by Canada Post to process the customs fee. 

 

Australia

Our standard delivery is by Royal Mail. The average transit time is 8 to 14 days. Tracking is included.

The customs threshold to Australia is very high, so it is unlikely you will reach it purchasing from us. GST has not been charged or remitted by us.

 

European Union

Our standard delivery is by Royal Mail. The average transit time is 5 to 10 days. Tracking is included.

We have not charged VAT, so import VAT, import duties and processing fees are likely to be paid via your postal service or courier. The threshold and rate depends on your country.

 

The rest of the World

We will do our best to ship to you where ever in the world you are.

Please allow up to 3 weeks for delivery, some locations longer. There are a few countries we cannot ship to, if you are in one. Send us a message and we can look at other options.

Please check your local customs regulations on what you can import and how much the customs duty is. Remember that there may be other fees associated with the customs payments.

 
Our Guarantees

It is very important to us that you are completely happy with the service and product you have received. This is why you have some additional guarantees in addition to your statutory rights.

 

Lifetime Guarantee against faulty manufacture.

As long as we are working as blacksmiths we will repair any piece we have sold to you through this website.  The lifetime guarantee is for the metalwork. Leather or other materials have a shorter guarantee. We do our best to source out the best ingredients, but due to the nature of the materials, we cannot cover these.

 

Refurbishment Guarantee

Because of the nature of iron, we offer to refurbish any iron jewellery back to its original state. Including a brand new cord. 

The cost for this is the cost of shipping, with tracking, the piece back to you and any other fees we may incur in taking the payment for the shipping. You will need to send the piece back to us, so this will mean that it can take up to a couple of months depending on our respective postal services.

 

Gift Guarantee

It is usually best to order gift items well in time. With international orders this can mean that the period of return expires before you have a chance to gift the piece. This is why, if you let us know the date when you will give the gift, we will extend the time that you can return or exchange to start from that date, rather than the date when you received the piece. 

 

Assay and Hallmarks

All our silver work has been independently assayed and hallmarked at the Goldsmiths Hall in London. This is your guarantee of the purity of our materials.